Structured Cabling
As is likely the case for your company, structured cabling is often the unsung hero of most data networks; carrying huge amounts of business critical traffic to where it's needed most. However, when cabling faults occur, office moves are required, or it's a simple case of refresh and upgrade, Shine have the experience and expertise to deliver you a cost effective and comprehensive managed service.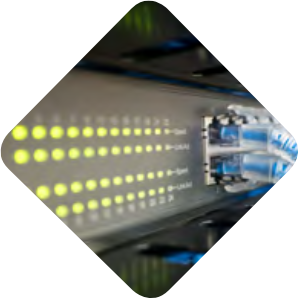 We are delighted to be working with Shine and I would not hesitate in recommending them to others
Verdesian Life Sciences
A well-planned, smart and scalable structured cabling system will be around far longer than your current pc, server, and network switches.
A structured/network cabling installation is the data cable network that carries data, voice, multimedia, security, VoIP, PoE, and wireless connections throughout a building or campus. It includes everything from the data centre to the desktop, including cabling, connecting hardware, equipment, telecommunications rooms, cable pathways, work areas, and even the jacks on the wall plate in your office.
A structured cabling installation is as important to the success of your organisation as the people are who work in it. It enables the sharing of resources, promotes smooth operations, accommodates ever-emerging technology, offers plenty of room for growth, and evolves with your organisation.