Dialler Interface
The ShineCloud Dialler Interface allows lists of data to be loaded to your database, after which an application runs and dials these numbers based on the algorithm or bespoke settings entered by the Administrator. The Agent's SC Dialler Interface displays specified information regarding each call. In addition, this information is customisable through the Administrator login.
Automatic Call Distribution (ACD)
Ensure incoming callers reach the correct Agent first time, every time. To maximise efficiency, when ACD is combined with the integral SC Skills Based Routing system, the Agent with the most suitable skillset can be automatically assigned to the incoming caller using your designated hierarchy flow charts.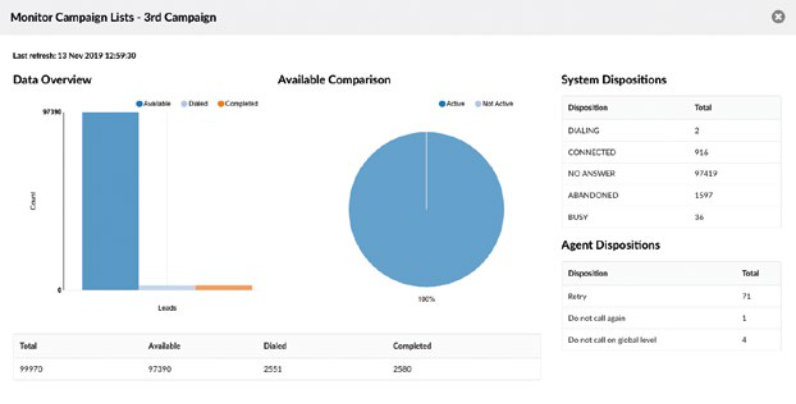 Campaigns
The dialler is managed through 'Campaigns'. Every 'Campaign' has lists of leads and associated agents (members). A 'Campaign' is in charge of dialling the leads and connecting them to Agents or any other destinations.
A 'Campaigns' Monitor page allows users to see a full list of all existing 'Campaigns' on the system and access further information regarding important real-time data. Users may see a table divided into three main sections Calls, Agents and Contacts. These three sections are then divided into several subsections for better organisation which makes it completely user-friendly.
Statistics
Access call statistics with ease and filter the statistics by the date, caller and recipient number. Gain insight into the extension's statistics, such as who and when has made a call, the total and average call time, the number of answered and missed calls and more. Use the graphs to display your call statistics data in a meaningful and easy to understand manner.
Real-time queue statistics gives you an in-depth insight into agent activity and queue traffic where you have the access to an agent's inbound and outbound calls, missed calls, occupancy, availability, queue inbound answered and unanswered calls, as well as total calls. Display the reports visually by using a graph or export it as a PDF or CSV file.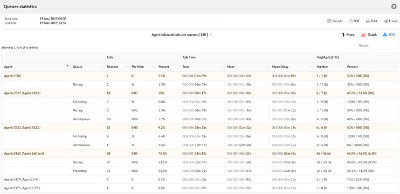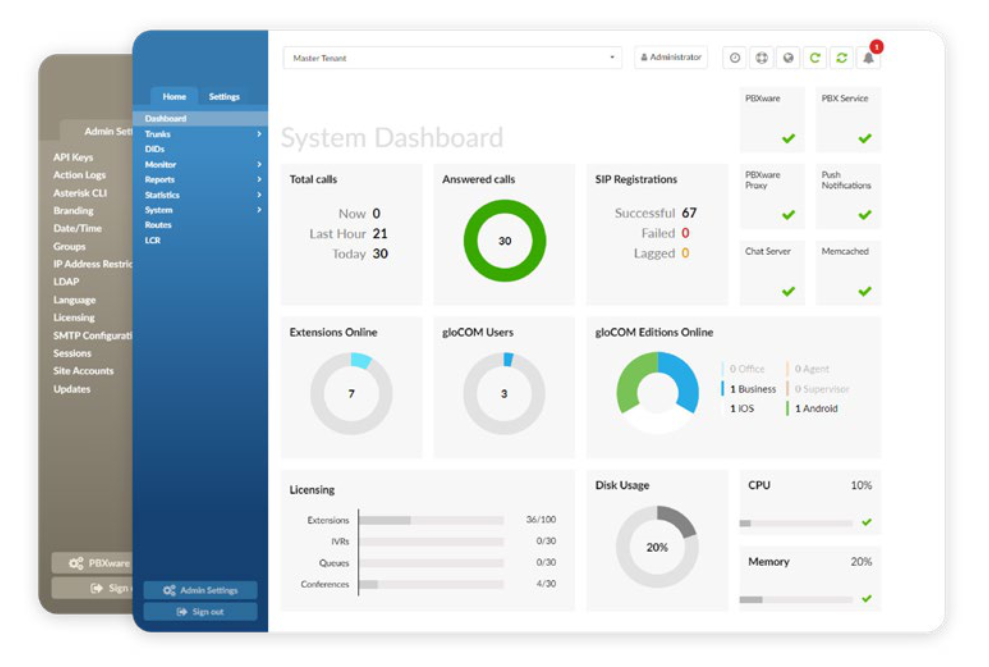 Call queue management
Advanced incoming call queue management, with queue monitoring, queue call back, and outbound call back admin CLI control.