Keep in touch beyond the walls of your office
A Mobile Unified Communications app integrated into your ShineCloud hosted system, designed to provide your business users with a set of features and benefits
capable of transforming your company's communications.
Compatible with Google Android and Apple iOS.
Work on the move and experience efficiency at its best.  Whether in or out of the office, take your ShineCloud system functionality with you on your smartphone wherever you go.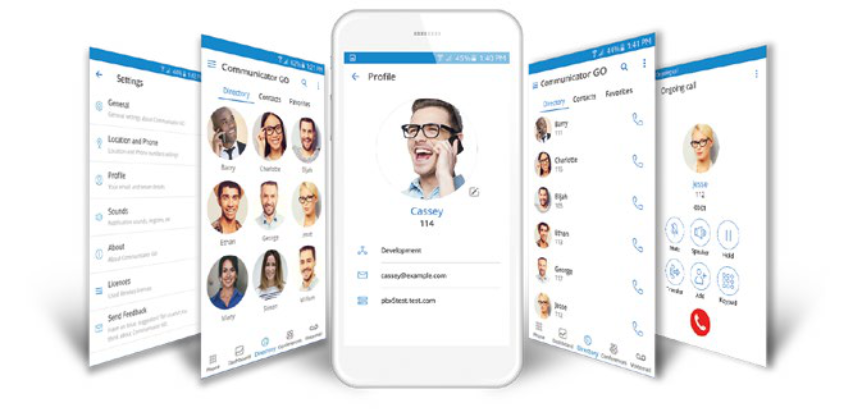 Shine

Cloud

Mobile Chat

Our existing Messenger/'Chat' features are now fully embedded into the already feature-rich SC Mobile app.

Your 'Chats' are fully synced between your SC Communicator desktop application and your SC Mobile app – providing unified device working. Send a message via Chat from your mobile app and pick up the Chat where you left off, using your desktop SC Communicator. Users can even send images, videos, documents or any kind of files (size dependent) quickly and easily.

SC Chat also works for 'Groups' – for example, your on-site engineers can post a group photo (using SC Chat) from their mobile device to the rest of the engineering team in the office.
Unify your workplace
A powerful desktop integration platform
ShineCloud Communicator means you can finally rely on a single platform to handle your entire day-to-day communications.
Having voice and 1-to-1 video calls, multi-party conferencing, instant messaging/chat, faxing, file sharing, CRM and Outlook integration all in a single place is bound to liven up your workday!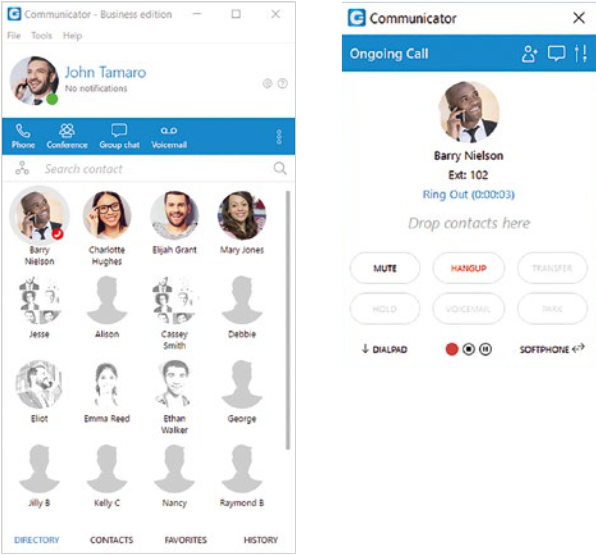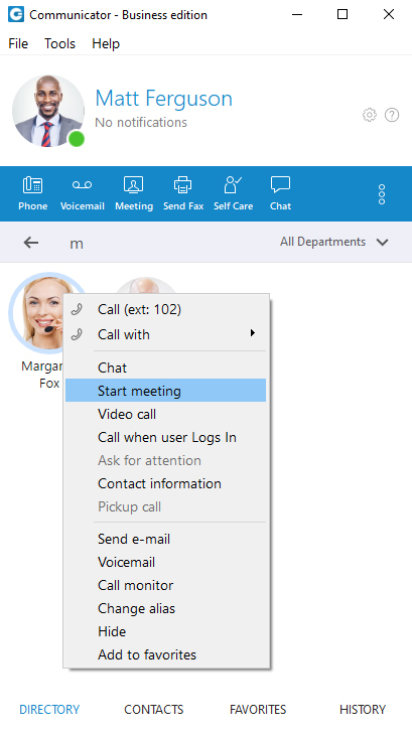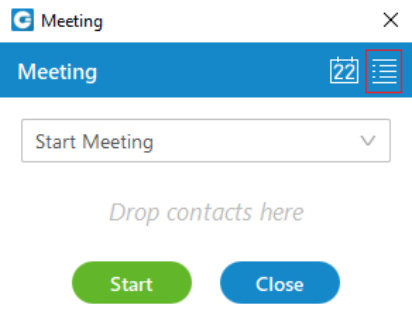 Unified Chat
ShineCloud Communicator 6.0 brings a unified Chat between desktop and mobile applications.
Chat history is stored centrally in the cloud and will keep synced between your devices that have either SC Communicator or SC Mobile app installed.
File sharing across devices
ShineCloud allows file sharing in both regular and group Chats. Files are stored permanently and can be downloaded until expiration time is reached. For image and video files, a thumbnail will be automatically downloaded. In all conversations, sent/received files can be seen in the files overview screen.
Meetings
SC Communicator Meeting is a new, optional module of SC Communicator that allows any user to set up meetings without the hassle of switching between applications (Zoom, WebEx etc). With access to all of your SC Communicator contacts you can start collaborating with a single click.
SC Communicator Meeting allows you to meet with multiple users simultaneously, while offering:
Video conferencing (in grid and speaker view);
Audio conferencing;
Screen sharing (specific application or whole screen sharing);
Remote control when screen sharing; and
Group chat.
You can also schedule meetings in advance and even set up recurring meetings that suit your team's needs. Always see what meetings you have scheduled by accessing the meeting list, but to make sure you don't miss a meeting an automatic reminder email will be sent to you with the meetings scheduled for that day.
Keeping track of scheduled meetings is easy thanks to the meeting calendar integration. You also have the option of instantly converting a group chat or a conference call into a meeting.